Artist:

Rezan Arab


Curator:

Abir Boukhari


Rezan Arab refigures masterpieces from world-famous artists such as Vincent Van Gogh, Paul Cezanne, Gustave Klimt, and Henri Matisse by overlapping part of their works with everyday scenes from his own life.
His work evokes tiredness of monotonous life and endeavors to break its repetitive patterns by juxtaposing past and present moments to provoke a contradicted fantasy of time and space in one view. His paintings are mostly still life paintings. They are still moments but the windows and the surrounding details from his life inside the room indicate forward into the future.
Rezan suggests we refresh our memories of blissful moments and look at the beautiful side of life to bring happiness to it. He also believes we need to illuminate ordinary and even depressive days in our life in order to retain a glint of the delightful moments.
Would these attempts succeed in bringing a touch of happiness to life? Or are they merely a wistful glance back at an unattainable time and an attempt to avoid thinking about the present moment we are living and the fear of its future?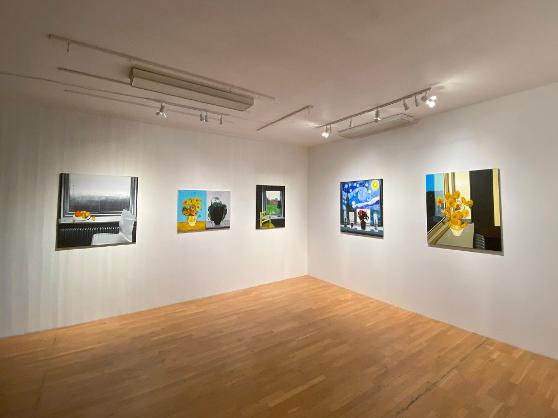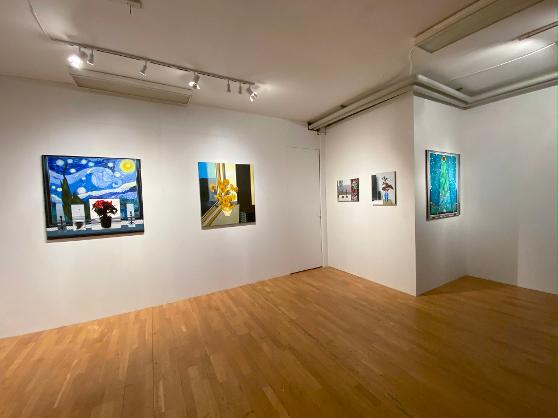 Walking with myself, walking with you


AllArtNowLab meets Flat Octopus


Artists:

Alice Máselníková and Juanma González


Curated:

Abir Boukhari




AllArtNow invites Flat Octopus for an exhibition at AllArtNow's temporary space in Stockholm.
Both entities are taking the format of a nomadic space as a way of being. AllArtNow turned nomadic in 2012 because of the Syrian war, while Flat Octopus appropriated nomadic exhibitions in apartments as a part of their main concept.
In recent decades, many spaces turned into mobile versions as a lifestyle or a way to be able to exist.
Similarly, many people find themselves modern nomads who do not fit an existing schema and refuse to be categorized or to follow a system that seems to be about to collapse.
Thus, the idea of freedom has expanded into a fluid form.
In this exhibition, we host two artists from Flat Octopus, Alice Máselníková and Juanma González. Alice works with live models and the human body in various forms, inspired by the poetic and the bizarre. She often engages the models in individual one-to-one sessions; an encounter that brings an element of accidental intimacy and in-depth conversations.
Juanma is wandering mentally in the landscape. walking as an artist and pilgrim, where the nomadic thoughts navigate freely on an imaginary-woven territory and memories carry us to places out of time and space.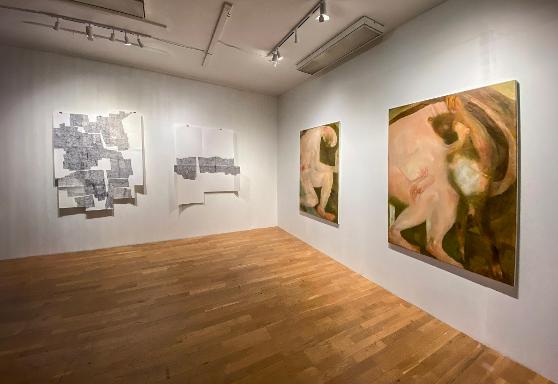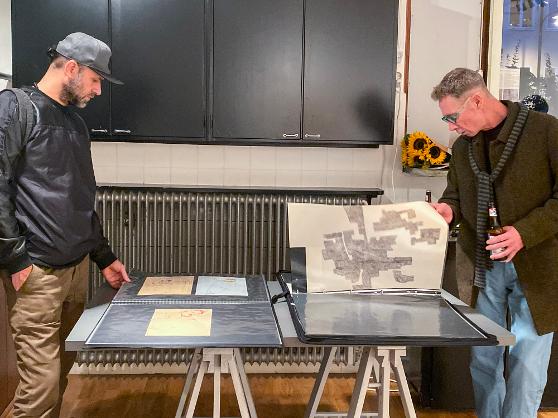 Artists:
Connie Chappel - Nisrine Boukhari - Katarina Eismann


Curater:

Abir Boukhari




This exhibition is a result of an exchange residency between Winnipeg/Canada and Sweden where artists Connie Chappel, Nisrine Boukhari, and Katarina Eismann research the concept of Nature and breathing in relation to their artistic practices, their life experiences and the current moments.
This project began in 2015 when Nisrine Boukhari went to Winnipeg as an Artist in Residence at Mentoring Artists for Women's Art (MAWA). In 2019, Abir Boukhari curated an exchange between her organization AllArtNow and MAWA for 2019/2020: Katarina Eismann went to MAWA in 2019; Connie Chappel was scheduled to go to Sweden in the spring of 2020. But because of COVID-19, Connie's trip has been postponed to an unspecified date. Instead of canceling the residency, AllArtNow invited the three artists to participate in a virtual residency.
This residency concludes with an exhibition of their work at AllArtNow Lab.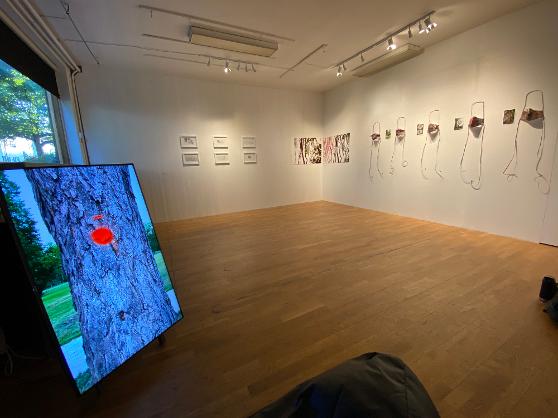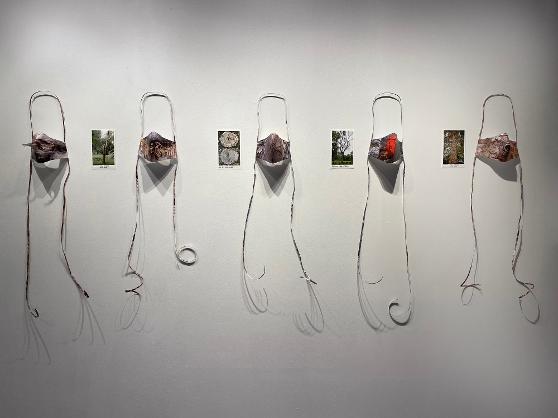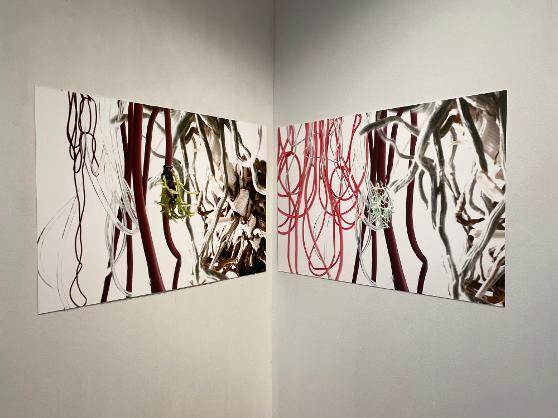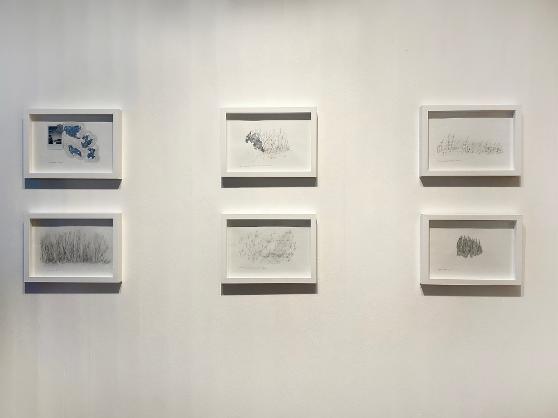 Nikolina Ställborn, Jonatan Habib Engqvist, Abir Boukhari


Come along, join us.
You can visit Nikolina solo show [A Glade of One's Own] curated by Jonatan Habib Engqvist.
We serve simple food and we keep the safe distance. We will make an international mix of summer food that can be eaten without too much cutlery. Feel free to bring your own food if you feel safer and let us know if you are coming, We are waiting for you.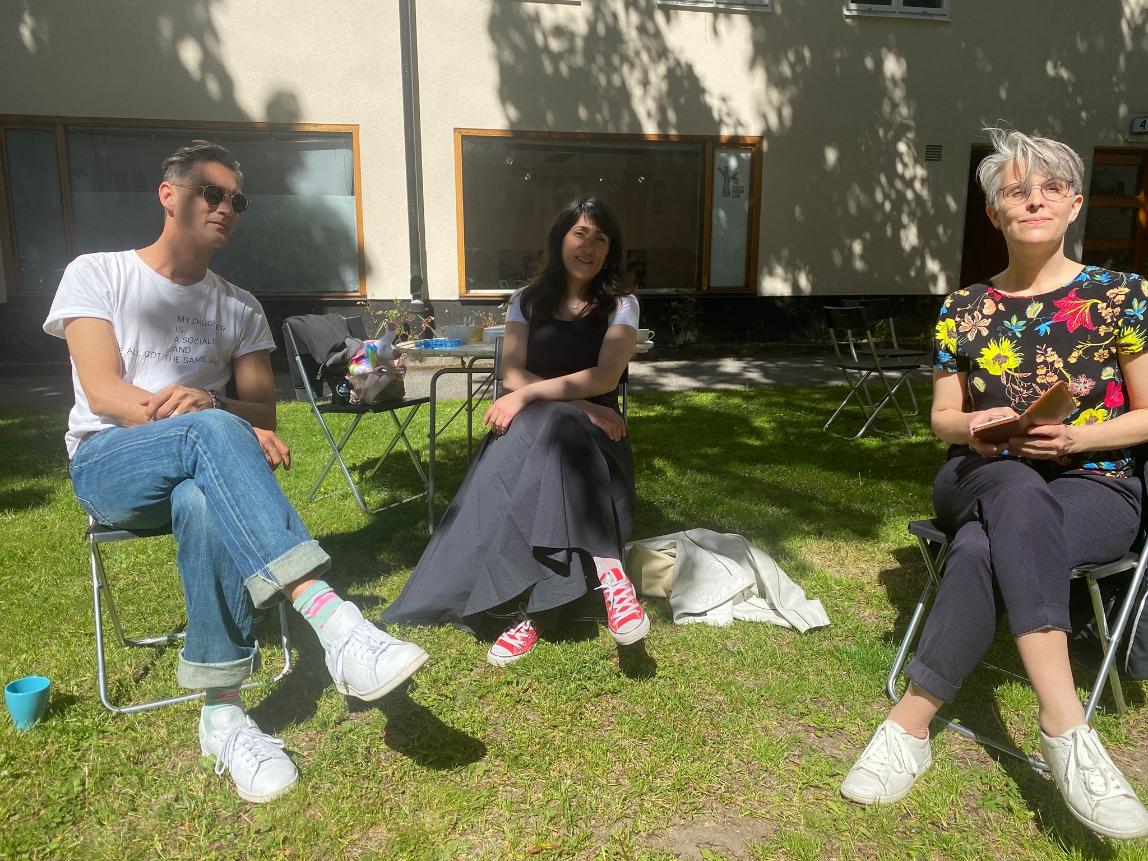 Artist:
Nikolina Ställborn


Guest curator: Jonatan Habib Engqvist


As days become longer and an intense green lushness materializes after months of winter darkness, the Scandinavian fantasy of a little secluded rural paradise awakens to the scent of blossoming flowers and the sound of vibrant activities of nesting birds. This year perhaps the desire is stronger than ever. Little did Virginia Woolf know that the title of her seminal essay within a century would become a sales pitch for country life. Selling that dream is also defining borders – property – when cadastral straight lines cut though undulating hills and define which room is one's own and what belongs to another.
On entering AllArtNow Lab we meet the oil painting Hormoslyr (2020). Hormoslyr was the trade name for a pesticide used in forestry to combat deciduous leaves and weeds along embankments. It was used extensively in the forests in Northern Sweden where Ställborn grew up. The pesticide was banned in 1977 after an attention-grabbing debate about environmental toxins. Ironically, her young parents had left the polluted city behind in the early 1970's with the ambition to start a self-sustaining farm in barely fertile land surrounded by forest in a backyard 40 kilometers outside Åsele in southern Lapland.
On the walls there are two diptychs. Oil on canvas and board: Landscape painting broken up into a new structure, camouflage-like surfaces. The double paintings carry the titles: Green is leading (the way) and Green dominates (2020).
The series of embroideries on camouflage-patterned fabric have small details cut from black and white photographs: a person, a tree or a house has been literally embroidered into environments and events. The pictures come from the 1970s Lapland, but have Instagram-sounding titles: #sunbath, #run, #workout, #fishing, #hangout, #rip, and #bonfire (2020).
For this exhibition, new work has been produced, #agladeofonesown reflects on questions of land ownership. With this work, the combination of national romantic aesthetics and contemporary military designs in the project space of AllArtNow, raises questions of property and territorial surveillance.
In the cell-animated A cartoonist's plantation (2002) tulips growing by the roadside transform into butterflies and balloons.
To see the exhibition on your own, please contact the gallery for an appointment.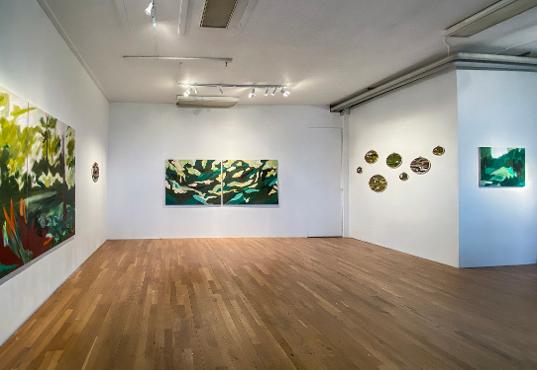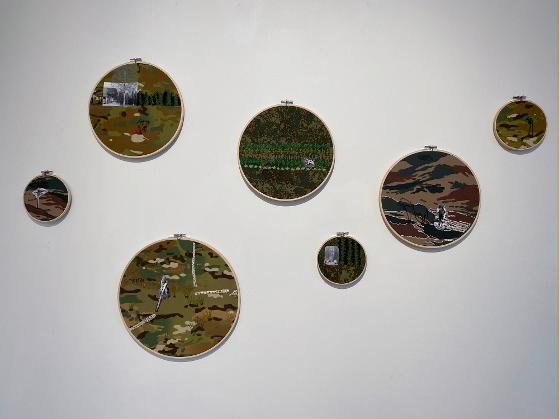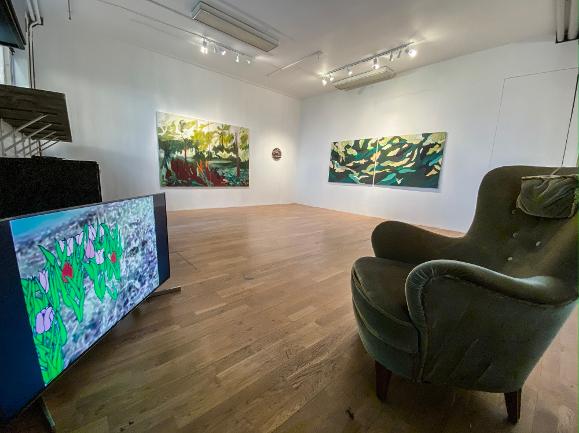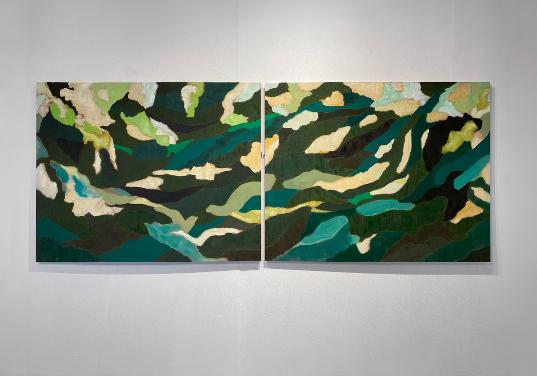 Artists: Johan Widen and Ylva Gislen


Artists Johan Widen and Ylva Gislen began in 2014 their project departing from walking in the footsteps of the novel Jerusalem (published 1901 - 1902) by the Swedish writer Selma Lagerlöf.
The novel Jerusalem is based on a true story about a group of farmers in a remote village, Nås, in the north of Sweden, who emigrated to Jerusalem in a wave of religious awakening and joined a group of Christians at the American Colony, at the end of the 19th century.
Lagerlöf herself visited both the village they had left behind and the Swedish farmers in Jerusalem and traveled in the area as part of her research.
Since rivers and water is a central theme in the novel one of the main threads in the project became Wadi an-Nar.
Passing through the much-conflicted Silwan, through the wall and settlements, following the extremely polluted water all the way down to Maar Saba. All the while reading Tawfiq Canaan's Haunted springs and water demons in Palestine (written 1922), in which the author has collected stories of Palestinian folklore and the popular belief about springs haunted by demons and djinnis, and others inhabited by saints or even the Virgin Mary.
The artists attempted to approach contemporary Palestine in a similar vein and thus trying to avoid getting stuck in the usual Western narrative of the conflicts.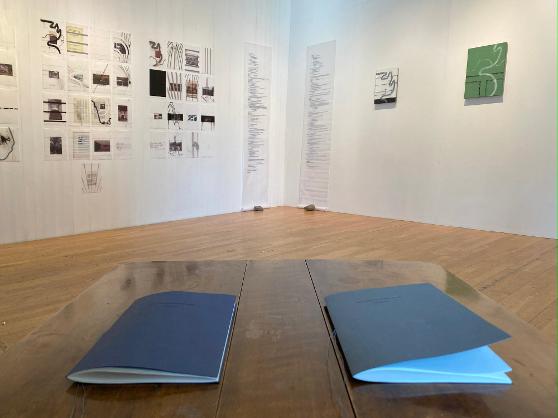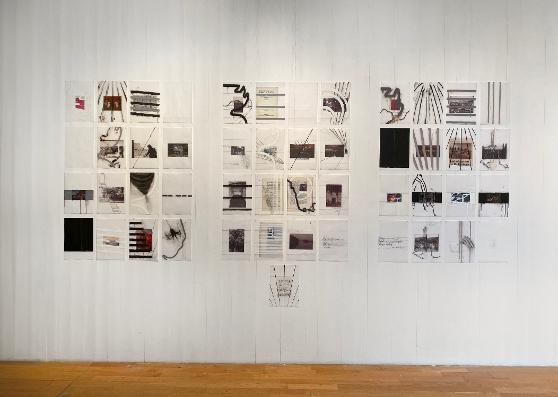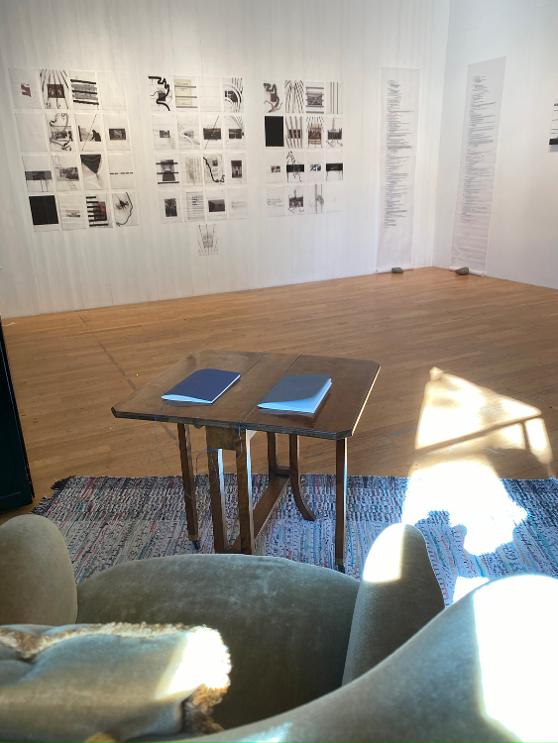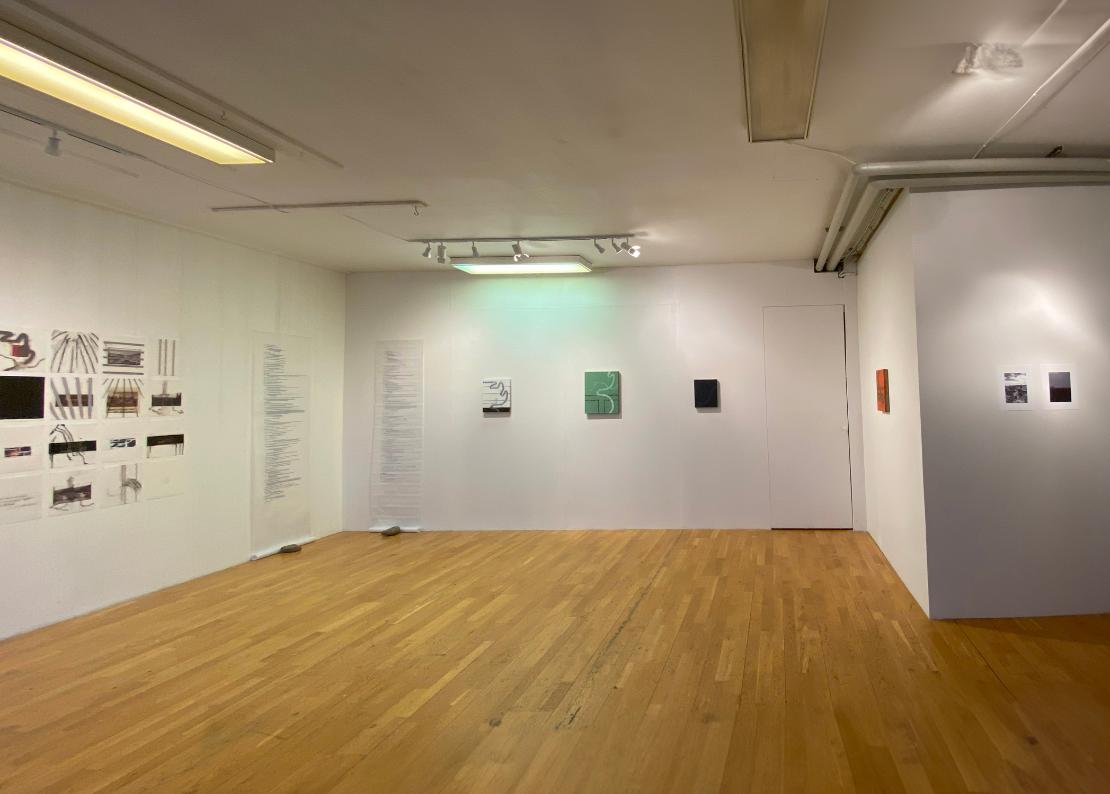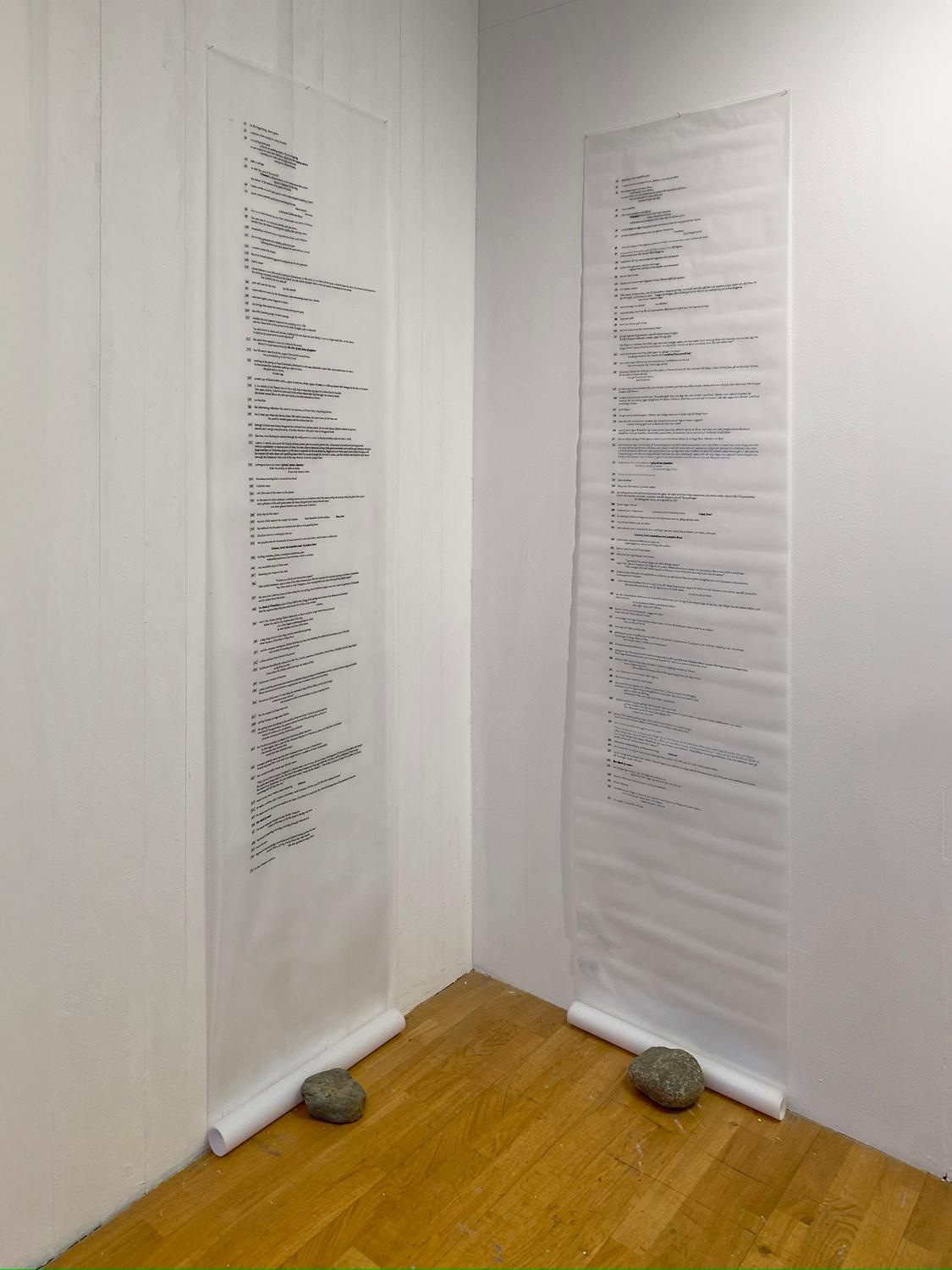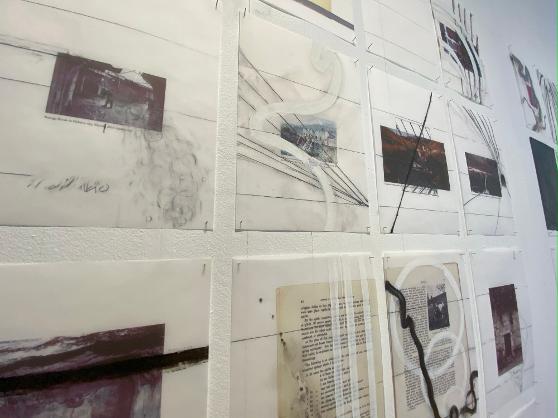 Everywhere on Earth; We Have No Place


Venue//Galleri Syster//Luleå_Sweden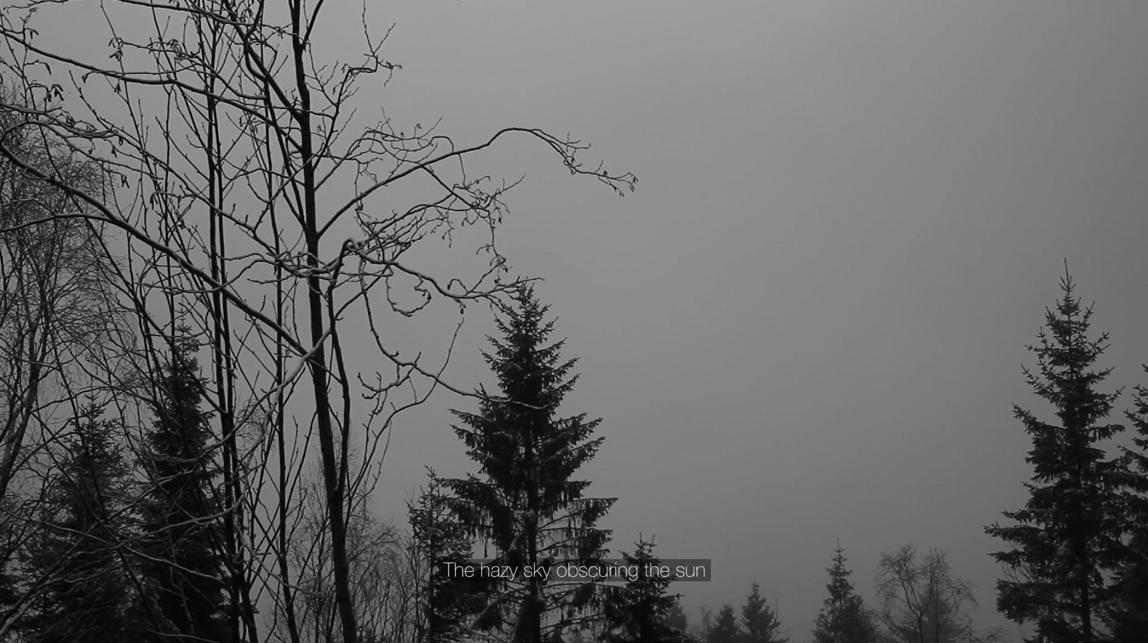 Venue//Sörmland Museum//Nyköping_Sweden
Artist:

Mourad Kouri


Choir:

Ornina


Dj:

Hanan


Curator:

Abir Boukhari


Welcome to a day full of music, art and poetry from Syria!
We are proud to present the Ornina Choir, which with its 40 members will be performing at the Sörmland Museum. A 90 minute musical journey from West to East!
The Ornina Choir was established in 2006 as part of the Syrian National Association's work to promote multiculturalism and integration work in Sweden. Since the formation, the Ornina Choir has had many concerts both in Sweden and in the Nordic countries. In recent years, and following the events in Syria and the wave of refugees to Sweden, the choir's ambition has been to act as a link between old and new Syrians in Sweden.
Mourad Kouri, born in 1987, lives in Stockholm and has studied at the Royal Academy of Arts. His background of seeking asylum and growing up in an exposed residential area with parents from Syria has, according to himself, led to him being in a hybrid of different cultures and languages. At the Sörmland Museum he invites you to an open performance – Tel al-Za'atar™ is a narrated code-switching performance, where cultural historical perspectives blends in a gastronomic experience, as the za'atar spice blend is prepared and served with olive oil and bread. In 1922, traces of za'atar was found in the tomb of Tutankhamun. In 1976, Tel al-Za'atar (the Mountain of Thyme), a Palestinian refugee camp on the outskirts of Beirut, was overrun after a nine-month siege by right-wing forces. The camp was reduced to rubble, and most of its inhabitants massacred, while a few managed to escape.
There will also be a dance floor with DJ Hanan from Nyköping, guided tours of the museum and the opportunity to read your poetry in the restaurant! Welcome!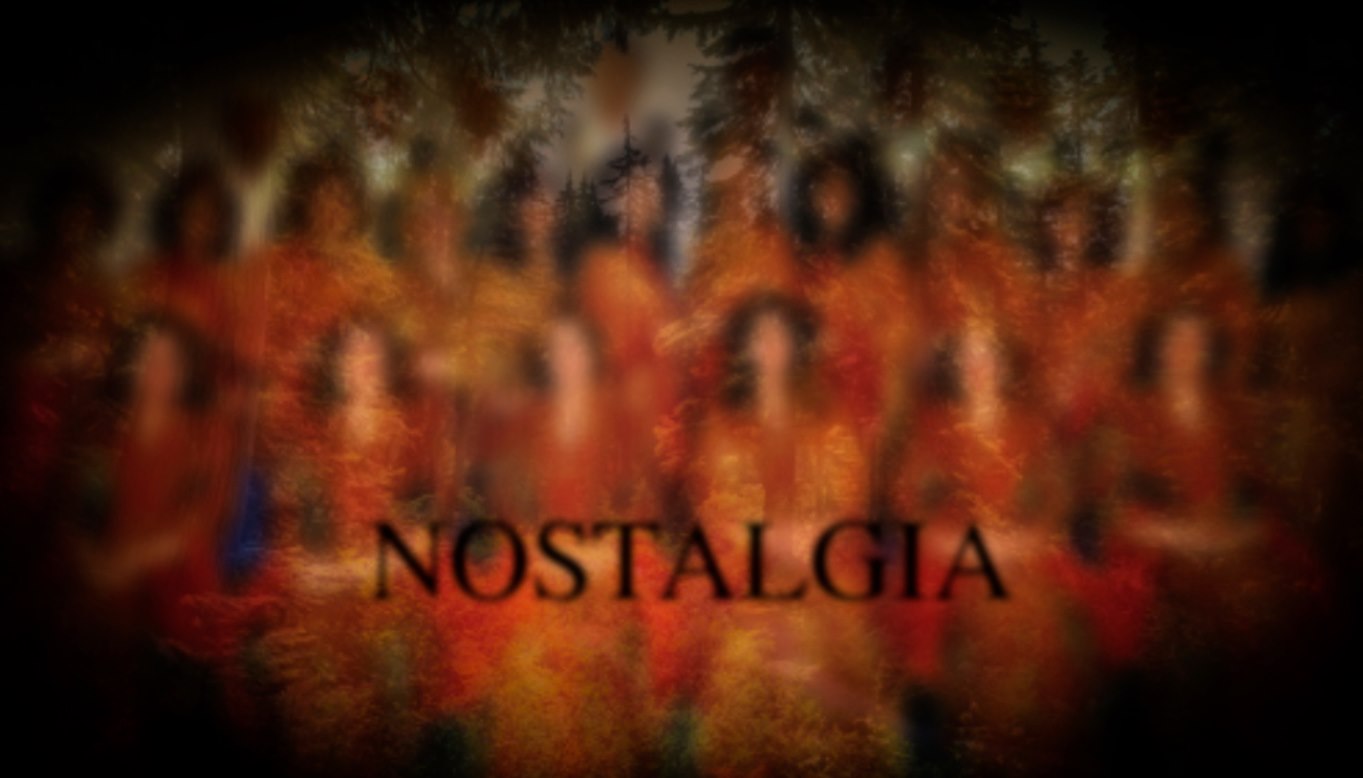 talk about Jiser residency in Barcelona-Tunis-Algier and the future plan.
Jiser launched the BCN>TNS>ALG residency program in 2010 to support artistic creativity, exchange experiences and build a network around the Mediterranean.
The association provides the necessary resources to support the mobility of the artists, coordination of the stay, production, mentorship, exhibiting and all the dissemination of the project. After having realized three rounds of BCN>TNS>ALG, which have supported 22nd young visual artists, we are now working on the progression in the project such as the inclusion of new artistic contexts and the development of the project.
Xavier de Luca (Barcelona, 1980) is the head curator at Fundació Suñol and the director of Jiser association. Jiser has been established in 2005 by Xavier and other artists to promote the mobility of young artists, encourage creativity, share artistic proposals and initiatives, Through the association, Xavier realized many projects like the artist's meetings "Perceptions de la Ville", Jiser Résidences, TransCultural Dialogues platform, the interdisciplinary festival "DJART '14" in Algiers, and others...
Jiser has been collaboarting with different venues as it has a venue in the Poblenou/Barcelona since 2017 to organize public events like Taula/طاولة, and MURAL/LOCAL.