How Are You Going? Are You Okay?


Venue//Peek-a-Boo Gallery//Australia
Artist:

Mahmoud Dayoub - Muhammad Ali - Nisrine Boukhari


Curator:

Abir Boukhari


"They were good friends full of trust about their art and life. They were working hard to progress their artworks and pass the challenges when the war broke out in their country to erupt their heart, leaving them so confused about the future and what they have to do.
They split up, left the art space, took the decision about their unclear future and keep asking themselves if they took the right direction. Muhammad decided to stay in Damascus, when Mahmoud left Damascus to stay in his small hometown, and Nisrine flew out of the country.
For 2 years, they haven't seen each other, they have no discussion about arts and life as before. Each one of them is busy in his/her new life, trying to adjust, to find reason to continue his/her life and to think that something will come up and life will be fixed again.
In my project, I selected these 3 friends as an allegory to illustrate part of the current life of Syrians where family, friends and lovers separated from each other and found themselves in a different kind of life, lost about the future, confounded to find their own way in their new life and finally know few things or sometimes nothing about each other.
In this project, I work with each one of them separately, with the aim of answering the main question, which is addressing the concept of the project. My main question was: "How Are You Going? Are You Okay?"
None of them knew what the others were going to do or discussed the artworks as before, but the result came to show the common points of their life even though they are in different place with different conditions of life, but all of them are sharing the patience of waiting.
The project has been divided to show in 3 different times where each artist will show his/her work separately without being able to meet, even in their artworks."


The Shows:



Muhammad Ali / Seems Offbeat, Our Daily Life / 7 - 14 October
Nisrine Boukhari / Breathing maps / 15 - 22 October
Mahmoud Dayoub / I am the Non Human Being / 23 - 30 October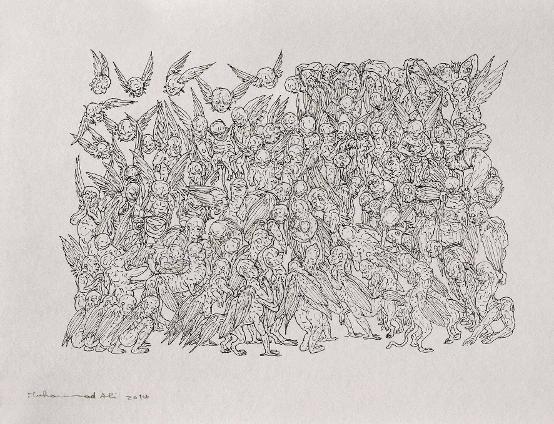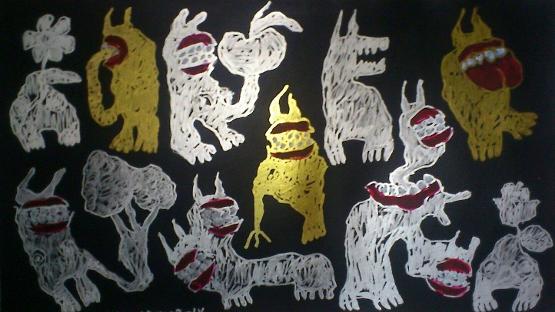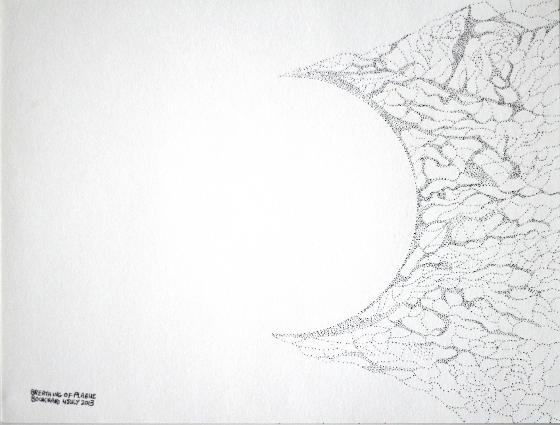 A Letter Between Two Cities


Venue//City Link Festival//Gängeviertel_Hamburg
We have not just been displaced because of the war but we carry the city inside us wherefore the city is displaced too.
The two videos showed in the exhibition are part of an ongoing project of several letters being sent from Damascus to another city in the world. The letters are humanising the city in its speech and researching the idea of a city in conflict.
The letters presented here, are from Damascus to Vienna and from Damascus to Copenhagen.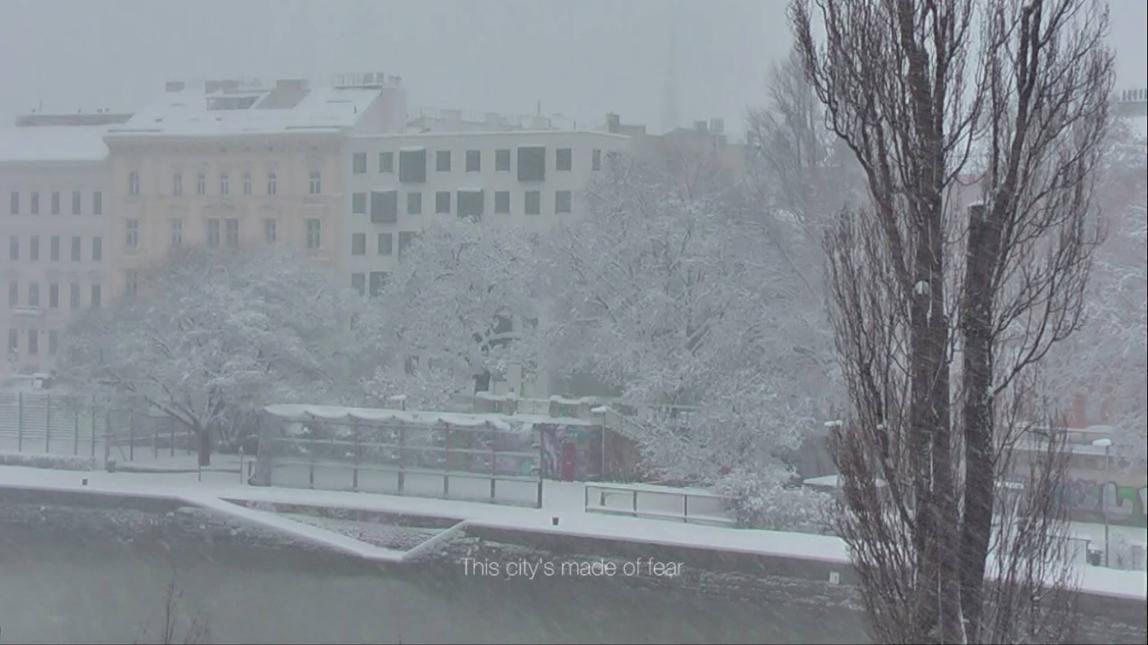 From The Diary of A Roamer


Venue//Jönköpings läns museum//Jönköpings_Sweden
Artist:

Muhammad Ali


Curator:

Abir Boukhari


Kultur & Utveckling, Landstinget i Jönköpings län and the Jönköping Läns Museum is very proud to be able to present the first solo exhibition of the work of the Syrian artist Muhammad Ali in Sweden. Muhammad Ali is a multi-disciplinary artist who explores how meaning is constructed and understood and in his recent work he has begun to engage in his artistic practice as a way and means of living, surviving and articulating his own reality.
366 Days Of 2012 is a diary and a witness account. It consists of 366 drawings of magical, fantastical and disturbing figures, one drawing presenting each and every day in Syria during 2012.
"In my project, I am weaving the myth of my time and my place,
I am a roamer in my own life, a traveler in my isolated locked place,
here I draw my visual witness through 366 figures archiving my 366 days of 2012.
Through my work, I am drawing my personal diary to archive my 2012 from my personal view."
In his new video Nor Human, Neither Stone Muhammad Ali approaches the idea of falling.
"In the recent times, during my walks on the street of Damascus, I see repeated scenes of people falling down, people of different ages and from different social levels, elderly or young, woman or man, walking alone or with their families. They all share the same scene, of falling down, in different ways but carrying the same meaning for all of us.
I look at their tired faces, I don´t notice the feelings of shame and discomfort posed after they tumble, as if they are enjoying their tumble, indifferent to their weakness, full of feelings of sadness and anger, just like the pedestrians who don`t stop themselves anymore, they just through a glance and continue their oppressed, exhausted walk as if everyone has realized that falling in all its meaning has become such a regular scene in the daily life in a city where everything is falling down."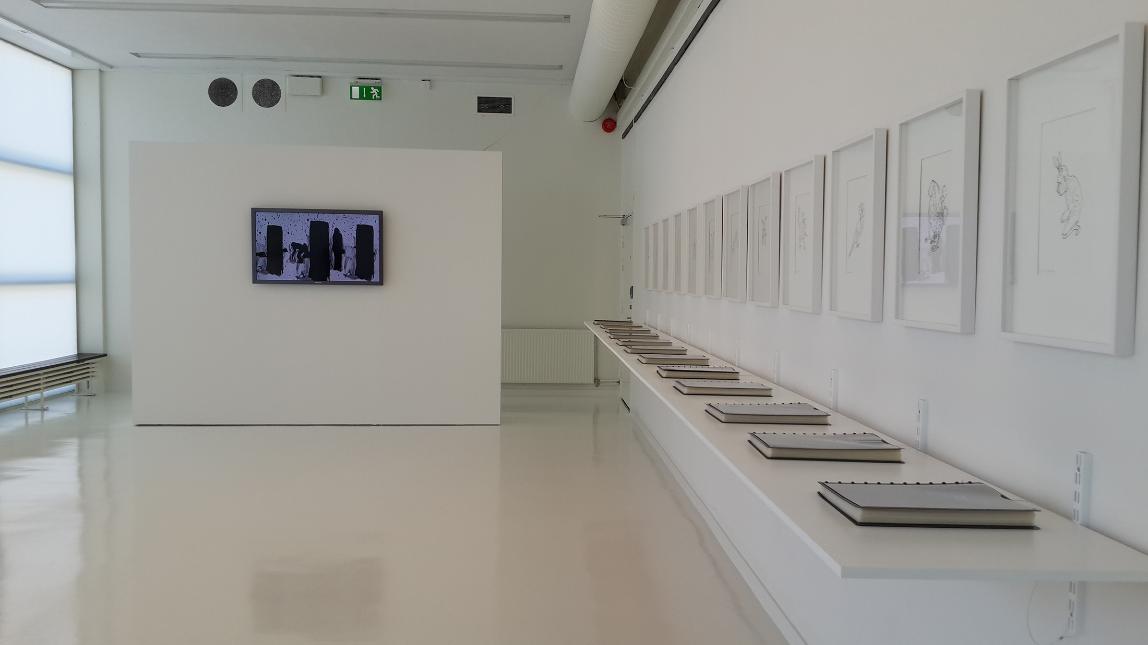 I`d Rather Prefer Not to Speak about Politics tonight


Venue//Supermarket art fair//Stockholm
Artist:

Muhammad Ali - Nisrine Boukhari
Curator:

Abir Boukhari


For many years, AllArtNow gather us together to work, dream and plan about arts and about our tomorrow.
The space was full of arts and dreams. We believe that by our humble work, we could change for a new life to come, put remarks and maybe the new generation will come to have a better life.
We planned our future and we thought that we know where we are going but we found ourselves in a high storm since 2011, we stopped all our plans, found ourselves strayed and painful. Our plan has changed; we started to obtain new visions moreover our space also plays a new role since 2012; AllArtNow turned from an independent art space aimed to bring a change in the cultural art scene in Damascus, to a tolerant space who offers safety to its new companions where Allartnow closed its door to be refuge for some families who fled from the conflict and the violence in the suburb of Damascus.
The artists as all Syrians feel broken, contradictory, painful, full of emotions and the feeling that they lost their future.
We have been dispersed, try to obtain new plan and new goal. Some of us stayed in Syria, keep the hope that tomorrow "something" will happen and we will be able to fix our life, resolve our problems and come back to dream about our tomorrow.
Others left the country, try to find alternative space for their future and keep the hope that tomorrow "something" will happen and we will be able to fix our life and to decide about our tomorrow.
But I think all of us we keep asking: did we lost our space, our ambitious, our dreams forever or tomorrow the storm will calm down and we will be able to rebuild our life and our space to be better than before?
Tonight, I`d rather prefer not to speak to you about politics but about two of AllArtNow artists.
Muhammad Ali stayed in the country, keep the hope that soon he will come back to his dream, his work and his life.
Nisrine Boukhari left Syria in September 2012, try to find alternative space for her dream, her work and her life.
Both of them took the risk full of hope to gain a goal or to get some "chance".
They are playing a gamble game on their future and their life; no plan, nothing clear and nothing for sure, they only keep some hope and believe that they will win their life.
Tonight, I will leave this alternative space to these 2 artists to tell you something about themselves...Would you find time to them.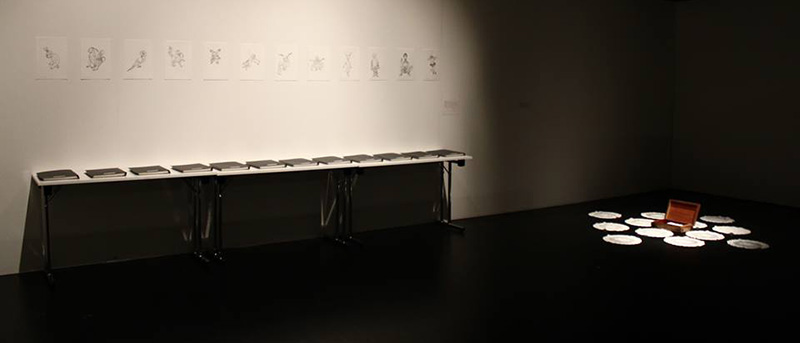 In my project, I am weaving the myth of my time and my place, where I am vagrant inside my life, traveler in my isolated locked place.
I am drawing my visual witness through 366 figures to archive my 366 days of year 2012.
Through my work, I am drawing my personal diary to archive my 2012 from my personal view.


"Unreceived letters ", 2014 (the work continues)


Since I left Damascus in September 2012 I didn't come back till now , I started to write a quick notes everyday about what is in my mind about the city I lived in.
These small notes let me feel that I am still in relation with my place while I am living my loneliness out of it.
Started from personal experience , and the study case of the city in conflict which is forming the main research in my work right now.
through the language I'm using, I draw in words a psycho-geographic map of a city in exile, saying something about a state of the image.