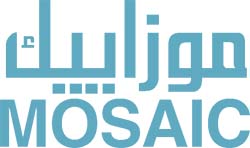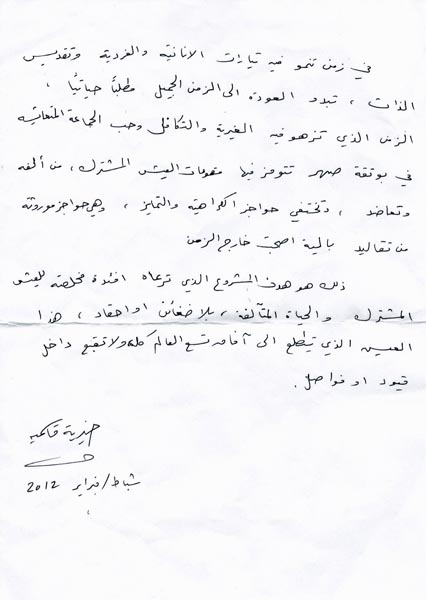 In an era that witnesses the growth of Egoism and individualism beside glorifying the ego, it seems that going back to the fine days as a vital demand…Those days where altruism, attachment to the community living peacefully together in melting pot, flourish.
This melting pot satisfies all the basic factors of living together (i.e) intimacy and support, where all barriers of hatred and discrimination disappear.
Those barriers inherited from absolute traditions and become out of the date.
The above statement is the target of a project nurtured by sincere hearts devoted to coexistence and affectionate life with no bitter feeling or grudge that sort of living is longing for a new horizon that embraces the whole world and not to withdraw into chains, hands or divisions.
Khairia Kasmieh

February/2012
في زمن تنمو فيه تيارات الأنانية والفردية وتقديس الذات, تبدو العودة إلى الزمن الجميل مطلباً حياتياً
الزمن الذي تزهو فيه الغيرية والتكافل وحب الجماعة المتعايشة في بوتقة صهر تتوفر فيها مقومات العيش المشترك, من ألفة وتعاضد, وتختفي حواجز الكراهية والتمايز, وهي حواجز موروثة من تقاليد بالية أصبحت خارج الزمن
ذلك هو هدف المشروع الذي ترعاه أفئدة مخلصة للعيش المشترك والحياة المتآلفة، بلا ضغائن أو أحقاد، هذا العيش الذي يتطلع إلى آفاق تسع العالم كله ولا تقبع داخل قيود أو فواصل.


أ.د. خيرية قاسمية

شباط 2012